Greetings readers! I have yet to get back into my pre-Japan sleep schedule so I am actually AWAKE in the mornings. Weird isn't it? Like what is on in the morning because all I see is the news?
It is hard to believe that a week ago I was leaving in Japan. It felt like I was there forever and I just back home. But I guess that is a good thing. XD The reality that I am back home in my regular routine hasn't hit home and I doubt it will until after this crazy week of wedding plans and family members in town.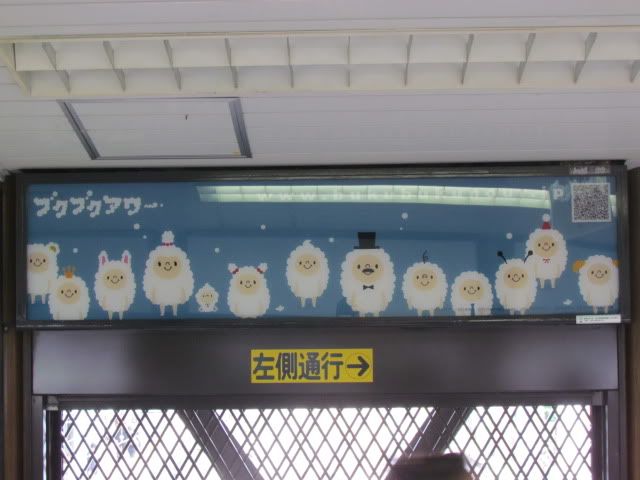 Cute little sheeps in Harajuku Station. This was a snap and run as there were still tons of people around despite it being a Monday morning.

Up today is a trip back to Harajuku. This time to explore Meiji Shrine and the surrounding areas. While rain threatening the rest of our trip in Japan today it was just light and didn't drown us in the streets. Enjoy!


The crowd yesterday at the shrine was overwhelming. Maybe it would have been fun to take pictures of the crowd but I enjoyed going today. The area had a more serene feel to it, not the high paced energy that was yesterday.

The amount of work that goes into shrines and temples seems overwhelming. There is always someone around tending to things and keeping everything nice. And no leaf blowers here, that would ruin the atmosphere. XD So sweep on man...you might be here for a while.




Meiji Shrine was created in honor of Emperor Meiji and Empress Shōken. They were very beloved by the Japanese people. Like many buildings in Tokyo the original building was lost in World War Two but was quickly rebuilt. Now this isn't the grandest temple in Japan. There are no golden adornments all over the place. Instead it is a place that holds important feeling to the Japanese people and that is why the place is so popular.


I am not sure why but in Japan I decided to take as many pictures as possible of trees. XD This one spoke to me. It needs to be made into a postcard or something.

The pathway to Meiji Shrine was used by some as a walkway to other parts of the city. How cool is that, that a shortcut near your home is really a walkway to a shrine? XD


Meiji Shrine itself is on a large piece of land. The rest of the property is mainly paths through large trees and such. In the back there is a small museum dedicated to Emperor Meiji and Empress Shōken. Sadly it is not opened on the weekdays so maybe that is why there was so many people yesterday? Still it was probably crowded anyway.


After we got our fill of Meiji Shrine (which the walk was very pleasant and NO STAIRS XD ) we decided to go to Yoyogi Park. It was super close by as we thought HEY maybe the cosplayers were there? Really we were that lost. So onward we went to the park. Yoyogi Park reminded me more of a park back home as it had places to play sports, walk dogs, and generally just spend a peaceful afternoon.

In Yoyogi Park there were FLOWERS! FLOWERS!!! XO Flowers belong in "gardens"! XD But yes there was a a good size rose garden in the middle of the park. Some chick was having a weird photoshoot when we were there so we took pictures around her specialness.


The rose garden was a really nice way to spend some time and take gorgeous pictures. I am glad we stopped on by through the park.

I didn't plan on going to Shibuya while in Japan but since we had some extra time and the bridge to get to that part of town was right there I was like woohoo let's go see the Hachiko statue. I am so glad that my husband is laid back as he agreed to everything on the trip. Love you husband!!!



We never took the bus while we were in Japan (well except to get to the airport) but they were all so cute. Obviously Shibuya really loves and promotes Hachiko.

Hachiko is located right out the station of Shibuya. Meaning we were on the complete opposite side of town. But the walk was pleasant and full of shops so it was all good. But I am very glad that we went to see Hachiko. It is fun going around and seeing things that are popular in Japan (and in animes XD ).



This Loft store was bigger than the one in Kyoto but basically had the same type of merchandise. One can also find some American snacks at this place as well as some cute plushies, luggage, stickers, and sunglasses. A store for everything!

Even if one is not really familiar with Japan they could probably describe that busy intersection that is in Tokyo. Well it is located right across from Shibuya Station and let me tell you the pictures are right. Crowded crowded CROWDED!

While it is fun looking pictures of the intersection it is slightly different being in the traffic. It looks orderly but it is really organized chaos. Add in umbrellas and I am surprised I still have all my limbs and eyeballs.


In Shibuya and other parts of Tokyo there would be huge trucks driving around in circles playing music. They were to promote the new music of sings/groups and help make the roads slightly more joyful/noisy. XD I am not sure how much more publicity AKB 48 needs but around and around the truck went.

That is about it for our Day 18 trip. Not pictured is the awesome store that is Mandrake. It is a used anime/manga goods store that I highly recommend. Most of the store is for mangas but a great deal of it is dedicated to figurines, art books, and really old toys. If you are in the area I really think you should stop on by.

Thanks for reading my post! Up next is Asakusa and all the attractions around it! Stay tuned for more.