Guys. Guys. You guys. I hate clothes. I really do. I close my eyes and see bags and bags of clothes. I hear the door opening, with people bringing in more bags of clothes. I have never seen so many clothes in my life. Co-worker said there are two super busy times of year and this is one of them. Yet it has never been this busy according to her. I came home every night last week and flopped on the couch. No energy at all. Creating sentences and thoughts were beyond me. I hope to catch up on a lot of anime this weekend as the husband has his weekend a month. I have not given up blogging, just apparently given up sanity at this job.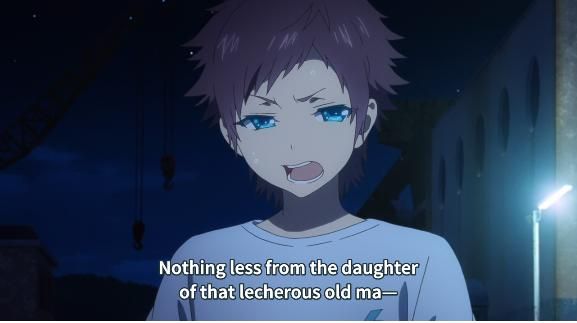 This is Hikari being helpful.
With a tummy full of sweet tarts (or whatever the other sweet tart things are called) I do have another post I started last week, before all my hopes and dreams of sitting down for 5 seconds at work were dashed by a nonstop parade of suck. Nagi no Asukara episode 5. GO ME!!!! My blog is like a time machine. Come, join me back in time two weeks ago. Spoilers for Hikari maturing a lot in this episode. I think.