It is amazing how special people can be. Every single delivery today told me how sorry they were for having me out in the rain. Like Oh We are so sorry that you had to drive in such terrible weather. Well if all of these people felt bad for me….WHY DID THEY ORDER PIZZAS DURING A FLOOD?! Not that they ordered the pizzas and it started raining later. No no it was pouring down rain out their windows and they told me it was too nasty for THEM to drive out in. So what makes you think I want to drive out in it?! MORONS!!! Just hand me the money next time and look down in shame, I need no excuses.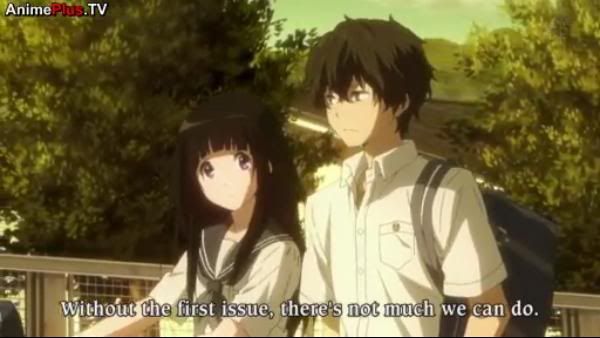 At first I was doubting the 1st volume would have any clues. Now I think it is going to play a huge part later down the line.
Episode Summary: While walking home Houtarou wonders how they are going to solve the mystery without the first volume and with just the two of them. He fears that if they don't enlist the help of Satoshi and Mayaka the mystery might become too old to solve. This makes Eru panic and she changes her stance on telling those two her private past. Both students agree to help Eru out as this mystery sounds AMAZING. On their next Sunday off Satoshi and Houtarou meet up (in dramatic fashion) to go to Eru's house. As they travel they talk about how Satoshi is a "flashy" color while Houtarou is a dull one. But Satoshi is okay with Houtarou being boring. Houtarou pretends to not care but puts up with the pinkness that is Satoshi. They travel for a while, up some fields and what not. They stop at a HUGE estate that is apparently Eru's house. Very old fashion. Eru greets them and not servants which makes Satoshi sad. Eru takes them to a huge room and gives them the rundown of how the meeting will go. Everyone was given something to research and they will explain their findings. That person will present their theories and the others will give their take on said theory. Eru starts first.
For some reason Eru gave herself the easiest assignment of really going over the 2nd anthology. She brings up the point on how he left, was a hero, and how it was implied he did something awesome. Eru's conclusion is at the cultural festival some…hooligans came and try to take the profits from the cultural club's table. Uncle fought back and was expelled. While the theory is nice both Satoshi and Houtarou both point out that the school usually doesn't allow booths and that the political climate at the time would not allow for student on student violence. Satoshi gets bored and they change to the porch to look at the pond. Mayaka then explains her theory. During the 1960's there was a lot of tension between the people in power verses the students. Mayaka thinks that Uncle used some sort of violence and was expelled from school. Again both boys point out that the theory is wrong as no violence was used given previous evidence and why would there be a 4 month gap between the act and the expulsion? Satoshi decides he is hungry so Eru takes them to the kitchen so she can make rice balls. Satoshi explains his information, which is basically the same as Mayaka's but uses the word movement instead. Satoshi says he is a data base and can't come up with any theories. Mayaka thinks that the movement must be talking about something Uncle did. They eat rice balls and Houtarou panics (as much as he can) because he didn't come up with any theories and his paper is just a list of topics discussed between teachers and students.
Eru has to run off to rescue mushrooms so Houtarou makes an excuse that he needs to use the bathroom. He accidentally walks into Eru's room and he sees how much Eru has been researching. So Houtarou uses much of his brain power to come up with his theory. He explains he hasn't prepared his own theory but will take pieces of everyone else's. He concludes that the teachers were threatening to cut the cultural fair short and Uncle lead a protest (probably a walk out) to keep the cultural fair to 5 days. The teachers had to relent after all the students left and punished the Uncle after things had calmed down. Everyone is amazed at this theory and Eru calls the meeting to a close after saying this protest will be the center of their anthology. She thanks Houtarou who declares it no big deal. As the boys travel home Eru wonders if this is the truth why did she cry? The end!