So....for the past few days I have been a sad panda. Like sitting on the couch just moping around hating the world and wishing ill on people. Clearly I need to express myself a little better because I told my husband I was a sad panda and thought I wanted Panda Express for dinner. Or maybe that was his way of trying to cheer me up. Silly husband. But at least he is trying.
The feelings of my heart.
So why is Tenchi full of woe and staring at the TV screen not blogging anime even if she watched an episode on Wednesday? Well...because I went to work on Thursday and the minute I walked in the door was told I was fired. HMMM! Insert rage and hatred and anger. And any other words that describe my feelings right now. Note when I looked up anime angry girl I got quite a few strange pics. Like um thanks for the boobies, because I am not angry enough!
How did this happen!??!

But yes. After almost 5 years at "Mike's Pizzeria" they tossed me out like yesterday's breadsticks. You know, to the raccoons that we feed at night. Or used to I say. It was usually my job to feed the critters behind the store. Someone started doing it but stopped for a while but the raccoons and cats were used to it so I made sure they were taken care of. Hope they are okay now.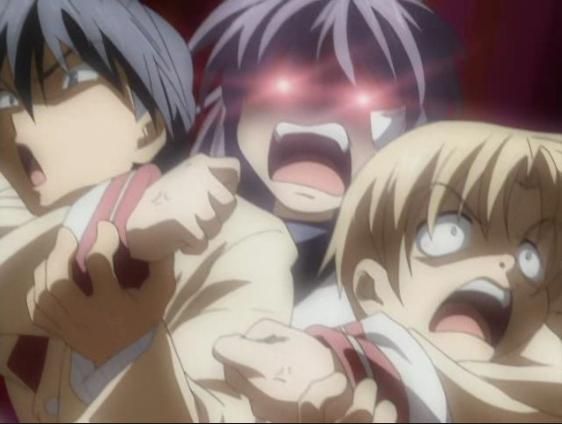 Taking everyone down with me!

Clearly I am in angry shock, not wanting to accept that this has happened. As all the important people in my life have pointed out this job was really the bottom of the barrel and I deserved better. A quick history of posts about my job will confirm this. However it doesn't change the fact that I don't deserve to be fired. I deserved to have a dramatic I QUIT moment, with bells and whistles. I deserve to go AHA try and get along without me. I don't deserve to be treated this way, especially given how everything went down. Obviously there needs to be more explanation but for now...rage. RAGE! Must pet the cat to channel out all my rage. Just weird...not going to work this week. Weird indeed.