Hello there my lovely readers! I have not abandoned my blog. Just that work is a lot..harder than I thought it was going to be. A lot harder and more to do. Then I come home at night and zone out into lala land. But since I didn't work this weekend I decided to stay inside and get some blogging done. And some cleaning. Two people and 218383 loads of laundry. Vacuuming and tube scrubbing and more anime watching. No social life this weekend people. XD It gets too expensive anyway.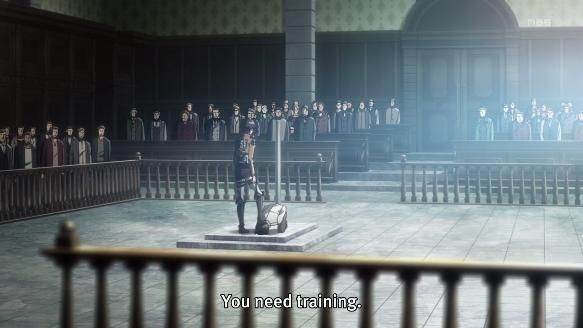 Please allow me to give you these lessons with my boot!
While watching tons of awful shark movies yesterday and lots of horrible reality shows today 5 anime posts got done!!! Go me. And a 6th episode got watched. I shall try to post them in order of the oldest. Up first is Shingeki no Kyojin episode 15. Spoilers for Eren making a new friend! Here is the link to the
spoilery thread
as the new opening song is a bit....hmmmming.