Well then...I am slightly behind aren't I? It is the same story of course. I am actually caught up on every single anime this season but Glasslip. Obviously since most of then ended this week. But I would almost finish one episode then hop on over to another episode. I actually thought this was already posted. Then I could find the summary. Clearly duel work on Dated and the good laptop is messing with my ability to finish things (as Dated cannot download anything bigger than a pic it seems).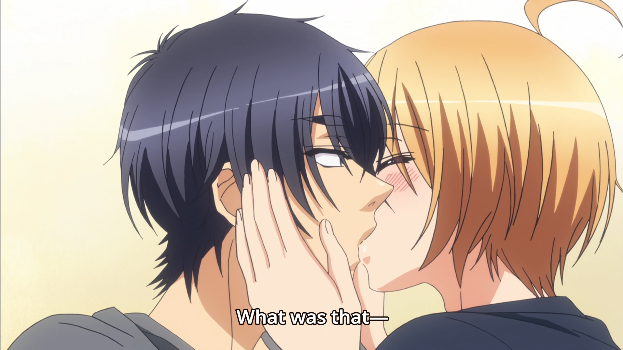 X___X Kisses...from Izumi? In season 1? Ryouma is floored.
So I need to buckle down and get all these half finished things done. There is a large block of reality TV shows that I am addicted to (go team Zach) on tonight so maybe I can double task. I seem to get things done faster when I have something to watch on TV. So without further adieu here is the last episode of Love Stage! Spoilers for.....well a happy ending? Literally.