Episode Summary: This episode was literally all over the place so forgive this summary when it becomes super jumpy and yes most of this happens in the span of 24 hours. Kakeru's dad goes to the backyard and checks on his son who was camping back there. Yes folks camping. They go inside and make some nasty looking meat and other things for breakfast. The dad starts to talk about how he is a bad dad or how being a dad is hard. Something about kids and what not. Kakeru brings up how Dad is always listening to his Mother's....whatever song in the house. This seems to embarrass Dad. None of this means anything except I think Mom is dead. Kakeru hears something about the future but it is super vague. Maybe his trigger is music. Touko and Sachi are on the phone as Touko is scared of Sachi going back to the hospital. She clearly thinks Sachi will be the one to be hospitalized. Sachi and her vague self doesn't make super clear but eventually says that Yanagi hurt her leg during dance class and is at the hospital. It turns out that she sprained it and is already being released. Touko runs to the hospital but sees Yuki helping Yanagi walk and runs out, not wanting to ruin the moment. Touko is a big embarrassed but Yuki still sees himself as a brother and teases her, calling her heavy and what not. By some magical miracle Hiro's sister is in the area and I assume takes them home. This when I think a day or two passes but who knows. Sachi calls and checks in with Yanagi. Yanagi seems to be doing better and the girls promise to meet up soon. Sachi realizes that Hiro is at her house to return her book and flirt with her because he is adorable. Touko is making glass with her dad at the house and has the sparkle visions again. She is shocked that this has been the future all along and is worried she is going to see a bad future one day. Her dad tries to make her focus on the task at hand so she won't be hurt. Touko then dons her school uniform and grandma hat to take a little trip. She calls up Yanagi who is mending from her sprain and eating yogurt as a treat. Touko calls her and they agree to meet up. Sachi serves Hiro some sort of drink in her room and it is all quiet and blushy. They eventually read books together and it is quiet and boring. Hiro eventually looks up the book Sachi likes and TADA the book has been made into a movie and it is playing NOW. They make plans to see it soon. Sachi smiles a lot while Hiro is all blushy.
Touko meets up with Yanagi who is really....hobbling down the road. They sit near the docks and talk about Kakeru and if Touko thinks he is cute. They agree he is self centered because of the 5 seconds they have spent with him. They then talk about Yuki and how Touko is sorry this all happened. Yanagi then confesses she was never going to confess to Yuki which makes her a bad person. Touko seems to understand what that means and makes excuses for Yanagi because they are friends. They part ways as Yanagi hobbles home and Touko goes to school to sketch chickens instead of I don't know...anything else in the world. As she sketches she hears someone behind her and thinks it is Kakeru. Well Kakeru is hiking alone in the woods the entire episode so it's not him. It is Yuki. Yanagi is seen hobbling to the hospital alone because apparently they have no parents. Yuki sits down with Touko and they talk about the chickens and Touko's personality and how things are slightly awkward between the two of them. Yanagi starts to walk home alone and notes the rain is coming. Touko takes Yuki inside the school so she can get supplies. Yuki refuses to go in the room as he will be alone with Touko. He also has decided that Touko likes Kakeru since she was waiting for the boy at the steps and assumed Yuki was Kakeru. Touko really can't answer so Kakeru leaves. Like runs away kinda leaves. It starts to rain and all the kids need to make it home somehow. Yuki just runs home. Touko gathers up the chickens because she is super concerned about them. Yanagi is slowly making her way home. Kakeru is going home on the same street in the opposite direction. He goes to put a jacket on himself but puts it on Yanagi instead. They sorta have to introduce themselves to each other since they barely has met. Kakeru then gets all awkward and doesn't know it talking about how they write each other's names. The rain stop and they go to part ways but Yanagi and her busted leg falls on Kakeru. This is when Touko chooses to walk nearby. She sees the embrace and assumes the worst and runs away. Touko is barely listening to the boring conversation at dinner time later. The next day Yuki goes for another run SHOCKER while Hiro takes Sachi to the movies..and falls asleep. Touko learns about this date from Gramps as she is alone at the cafe. How did this all become like this?! THE END!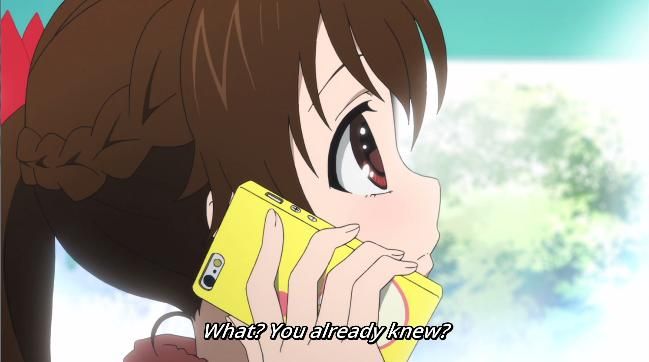 And then Touko died of a heart attack. But I guess since she is talking to Sachi she must know it isn't super serious.

I think for my sanity sake though I will blog the rest of this post in groups of what happened as best I can. Otherwise it will be a giant mess and we can't be having that on top of weeks of absence right? So Touko starts off this episode still being very concerned for Sachi a few days after the hike. She saw the girl in her vision and was looking pretty hospital like. Given that she has a condition this could be anytime in the future and not immediately right? But Touko is on top of things now. I don't like how Sachi/the writers pretended like Sachi didn't understand the question. Like were you hospitalized is not the same question as asking if you are going to the hospital to visit a sick friend. Maybe it was a translation thing but I was upset for Touko who probably had her heart skip a beat or two. But yes Sachi was talking about Yanagi who hurt herself at dance lessons. I thought the internet said modeling lessons but maybe I read wrong. A bit dramatic for Touko but all will be okay. Take a deep breath. For now as Sachi still is a sick thing.
Yanagi spends the next few days taking it easy. I think I would have milked it for a bit more so Yuki could give me more attention. I can't reach this Yuki, please help me Yuki. But maybe she doesn't want to bother him as she seems super invested in Yuki's training for...running. Because you know running is a two person job. It seems as if no one came to visit Yanagi but then again it was just a sprain. It wasn't like she got her wisdom teeth taken out or something. Still the girl needed some help around town. All this hobbling to see Touko and the hospital...not a fan. Not a fan of that or her giant bow of stupidness.
Since Touko is the friend of a year she calls Yanagi out to sit by the docks. Which would be must more interesting to draw but I guess that is just silly talk. Not sure why the two girls couldn't talk on the phone but sometimes one needs to get out of the house and meet in person. I thought that the girls had covered all the Yuki issues on the mountain but I guess not. They are girls and we girls like to rehash things. Also Yanagi did something I didn't think she was going to do and that was..confess to Touko she was never going to confess to Yuki. Touko knows that it was a set up to make Touko never want Yuki or else she would be a bad friend and maybe have Touko revoke this no dating rule (which should have been talked about in a meaningful way with everyone) . I honestly did not see that coming. Maybe Touko had figured it out or it was new news to her. Either way she was on Yanagi's side and made excuses to her friend. It probably helps that she is not interested in the boy anyway so who cares what Touko said. Then the girls talk a bit about Kakeru which is odd. Odd that Yanagi has an opinion on the boy as he literally spent 5 seconds around Yanagi so how can she judge him as self centered? I guess if I were Yanagi I would talk him up so Touko goes down that path. Had she done that though the moment at the end of the episode would have been..worse I guess so I guess it was good he is self centered to Yanagi.