When it rains it pours right? I think that saying is usually a negative one but I think it can apply to positive situations as well. Or that is how I will make it work. Last week it just seemed the internet exploded in cute merchandise that had everyone squealing over. We got a new friend for Duffy named Gelatoni, new Disney Princesses/ladies shoe pins, a Disney make-up/beauty line at Walgreens, and now...this. This. The total definition of cuteness and amazingness. So much cute my eyes nearly exploded. Everyone on my facebook feed declared them the best things ever! A hit right off the bat for Disney yes?
.....Yeah instead of buying fancy cars and eating at nice restaurants I am going to win the lottery and buy all of these.
So what am I going on and on about now? Tsum Tsums. Obviously. I mean obviously you have heard about them. Just nod your head and agree that these are the best things ever and count the minutes til you can get yourself to a Disney Store or the Disney Store website to get some of these cuties for yourself.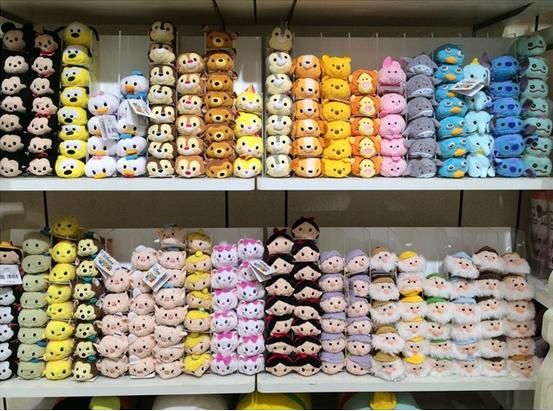 I think I need a bigger house...

In case you have no idea what I am talking about...Tsum Tsums are a Japanese Disney product that are characters rolled into cuteness. Seriously all the best Disney products come out of Disney. The United States will come up with the characters and Japan will make ultra cute products for them. Tsum Tsum translates into Stack Stack which is what you can do with these guys. Yes they are round and rolly but they are shaped in a way that you can stack them on each other to make a wall of eyes staring at you, as if to say...buy more.
There are three different sizes but obviously it would be easier to collect more of the smaller ones...but the big ones are easier to hug...

These cute little Tsum Tsums were introduced in Japan first because...Japan. Japan is home of cuteness. Well and many other things. But I think Disney in Japan encompasses cute a bit better than the American parks. We tend to focus on Princesses so little girls (and boys!) can relate to a human being and their little animal sidekick is just that...a sidekick. Sure we got all the Fab 5 (6) in the parks but I think a trend lately has veered off into "gender specific" toys and merchandise. Even if I think anyone can like anything. But in Japan cute is cute and everyone is free to like cute. These kinds of toys are perfect for girls and boys. So I really think that these will work well in the United States. The price point varies, with the tiny ones being super affordable for kids and the larger ones being about the same price as similar sized plushies at Disney Stores. That might be a reason why Duffy is having a bit of problem really taking off in the United States. In Japan young ladies have disposable income to spend on his many outfits and what not. In the United States Duffy has been marketed more to kids and kids might not have the cash to spend $30 on the bear itself plush an outfit. $30 can buy you 6 Tsum Tsums, what a party yes?
Japan Disney Stores still have a larger selection of Tsum Tsums but I am sure the American stores will grow if the products take off.

I first saw and learned about these cuties because of Duffy. Shocker right? If you look at the Tsum Tsum they are a nice size be a companion piece with Duffy. A correctly hidden hair tie and he can carry them around so easily. Like his own little plushie. Plus there is a girl on Facebook who is a pro at making felt Duffy and Shellie Mays and she recently made Tsum Tsums versions of them and of course they are adorable. I chalked these little creations as a Japan only piece of merchandise that I would have to stuff in my suitcase once I got to the magical land of anime and way too many cute things. But now it looks like I can get my fix here in the United States. Now I just need to win the lottery because of course I can't decide which ones I want....they are like Pokemon, got to catch (have) them all!